Sports Bikes: Piaggio MP3 300 HPE Sport
25th February 2021
---
Why wouldn't you want a Piaggio sports bike? People all over the world know the Piaggio name, and there's a good reason for that. It's because the company has gained iconic status as Italy's largest scooter and motorcycle manufacturer. With the launch of the much admired MP3 300, Piaggio was the first brand to produce a three-wheeled scooter. Read on to learn more about why you'd enjoy owning a Piaggio MP3 300 HPE Sport.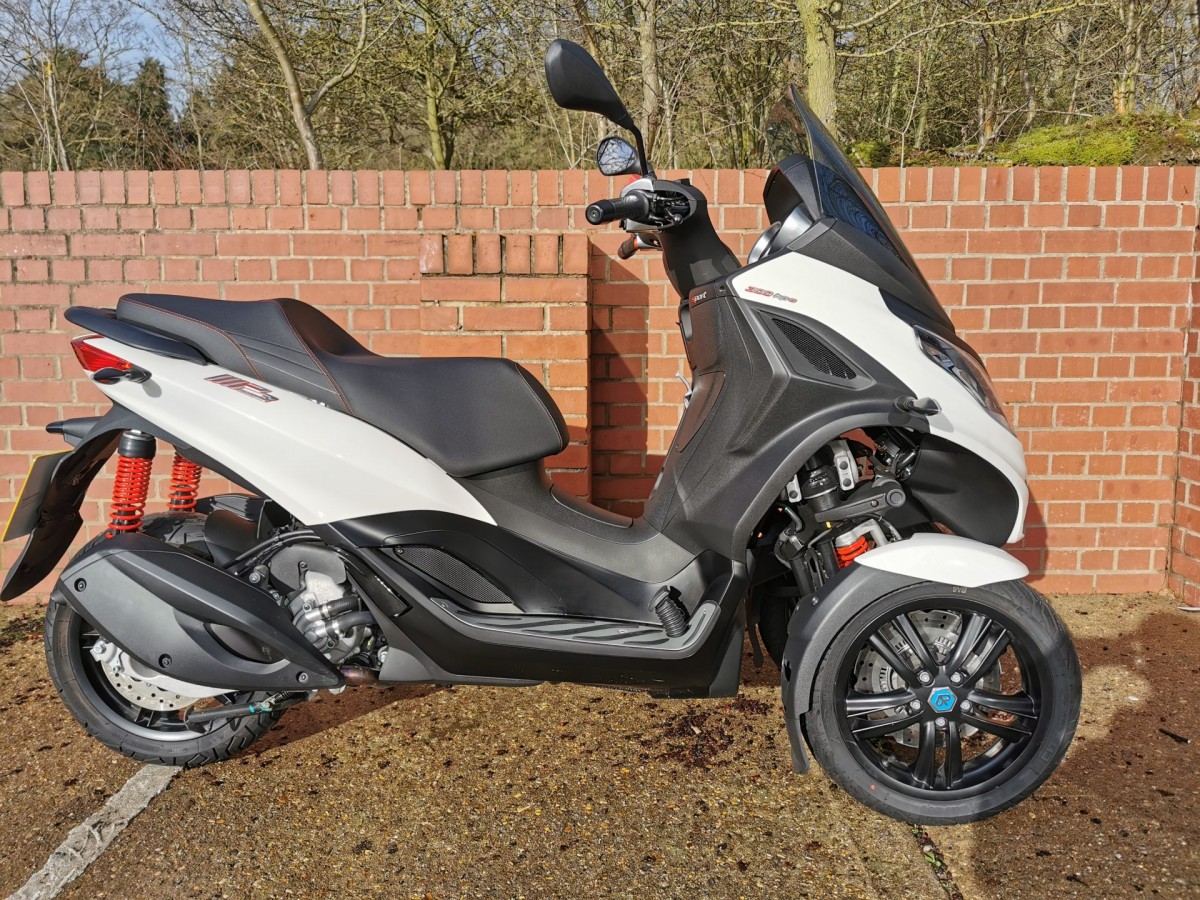 Piaggio sports bike: the MP3 300 HPE
The MP3 is a great option for those who want to upgrade from a scooter, as well as car drivers who want to swap from four wheels. It is a great choice for both town riding and motorway commuting. One of the advantages of the Piaggio MP3 300 HPE Sport is that you only need a car driving licence to ride. The three-wheeled design of the MPS means that anyone who passed their driving test before 2013 can jump on and ride away; although it might be a good idea to complete a CBT course if you haven't ridden a scooter or motorcycle in the past!
The double front wheel and articulated quadrilateral suspension system make riding it a unique experience. It's compact and handles well, making both manoeuvring and parking a pleasure. This may not be a power bike or racer, but it's every bit as cool to be seen about town on one. If you don't believe it, why not take it out for a test drive?
High performance engine
One of the key benefits of owning a Piaggio is that assurance of quality that comes with the brand name. This latest MP3 300 HPE (high performance engine) is more sporty and provides better weather protection than its predecessor. However, despite the three wheels you still feel like you're riding and not driving!
The Piaggio MP3 300 HPE Sport offers the perfect combination of practicality with good looks and desirability. It reliably does what it's meant to do, but it also does it with style. The two front wheels give added comfort and stability, and this is a bike you could happily take touring.
Lighter, faster, more powerful
Following its launch in 2019, the MP3 300 HPE Sport is rapidly becoming the go-to Piaggio sports bike for comfort. For the HPE version, the old MP3 had been updated, streamlined and given an injection of extra power. It's designed to be lighter, faster and more agile, making it ideal for negotiating those busy city streets. The only way to truly appreciate it is to try it out for yourself!
Based in Stowmarket, Mototechniks has built up a reputation as one of the area's leading motorcycle centres. We pride ourselves on our sales and service, along with the extensive range of bikes in our showrooms. Contact us today to book your test drive.